Welcome to the EC Gaelic Club in Brussels
EC Gaelic Club Brussels New Logo
Recently we have launched a new logo for our Club -EC Gaelic Club Brussels.
Our moto is to Train, Compete and Succeed Together.

Train Compete & Succeed Together (156.2 KB)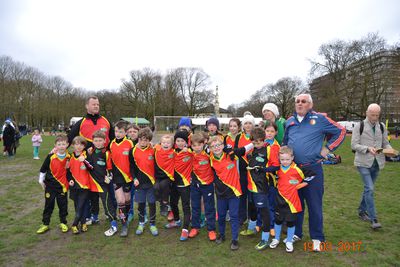 Meet Liam Breslin our Chair, Una Shortall, Secretary & Trainer U8s, Mark Cunningham Treasurer & Trainer U10s and some of our great players who participated in the 2017 St Patricks Day celebrations at Parc Cinquantenaire in March this year.
We are vrey thankful to the Irish Ambassador Eamonn Mac Aodha who comes along each year to present medals to our GAA players on St.Patricks Day.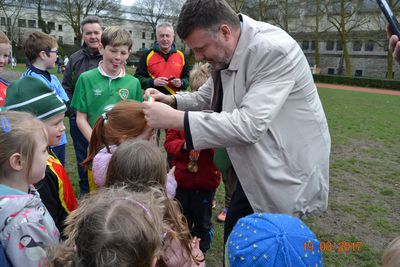 Over the years the EC Gaelic Club in Brussels has evolved into a very successful and independently run club having trained many international boys and girls from ages 5 -14yrs in GAA football.
In addition to our regular training sessions and GAA matches, we very proudly represented our club at various European tournaments: in Dublin hosted by Naomh Barróg GAA July 2015, in Madrid hosted by Madrid Harps October 2015 and more recently in June 2016 in Rennes - Liffre GAA Youth Tournament.
This year our club has decided to host its first tournament - Benelux Juvenile GAA Football League which takes place on 4th June where we are very much looking forward to welcoming our neighbours from Den Haag in the Netherlands, Frankfurt and Luxembourg. We hope you can join us.
Check out our poster below for further details on the tournament.
Benelux Juvenile GAA Football League - Be sure to register in order to participate!!
Centre Sportif ADEPS de la Foret, Sunday June 4th, 12.00 - 17.00.


Benelux GAA Football League (205.5 KB)
If you are new to the EC GAA club, and would like to join, please contact us via 'Contact Us' on our website.
We look forward to hearing from you.
Meet our Chair - Mr Liam Breslin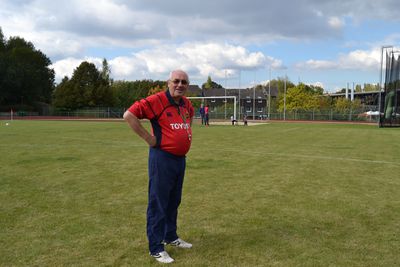 Liam Breslin - Chair
Help spread the word and get more kids (of all nationalities) playing GAA in Brussels.
Check our our calendar for the remaining training sessions for this season - our new training season will begin in September 2017 timeframe and will run until June 2018. All nationalities welcome.
Check us out on Facebook - for upcoming events, photos and albums of our activities.
Diary...
Sun 04 Jun 17
Tournament in Brussels
Full Diary

Integrating Web, CRM and accounts.
Helping the EC Gaelic Club since 2007